Items of Interest
Since there are Vosteens and friends scattered throughout the world, I thought it might be nice to post items of interest related to the American Southwest.
Be Warned, however, even thought this isn't a blog, I won't be loath to post an occasional rant or opinion.
Banner Pictures - Monument Valley
Straddling the border between Utah and Arizona is one of the most recognized areas of the world, the site of literally hundreds of Western movies lies Monument Valley.
The valley is not a valley in the conventional sense, but rather a wide flat, sometimes desolate landscape, interrupted by the crumbling formations rising hundreds of feet into the air, the last remnants of the sandstone layers that once covered the entire region.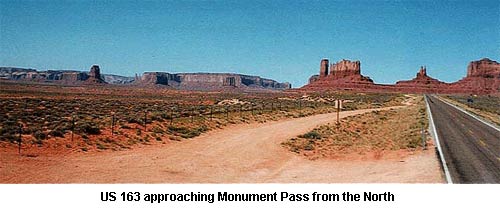 Valley Drive: The view from the visitor centre is spectacular enough, but most of the park can only be seen from the Valley Drive, a 17 mile dirt road which starts at the centre and goes south east amongst the towering cliffs and mesas, which include The Totem Pole, an oft-photographed spire of rock 300 feet high but only a few metres wide. The road is very uneven and difficult for non 4 wheel drive vehicles - it is perhaps deliberately kept in such a state to increase business for the many Navajo guides and 4WD jeep rental outfits, which wait expectantly by the visitor centre - typical prices are around $15 for a 3 hour trip. As well as eroded rocks, this area also has many ancient cave and cliff dwellings, natural arches and petroglyphs.