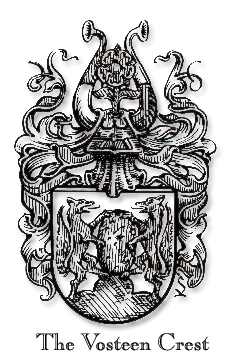 The Vosteen Name - German or Dutch?
Vosteens and their name certainly originated in Northern Europe and the name is either of Dutch or German heritage. The name literally means Fox (vos) and Stone (steen). As credit to that name, my Grandfather Frederic founded and ran the Foxstone Tavern in Union City, NJ (in the 1940's). Continuing that tradition, I am president of Foxstone Industries, an IT web and consulting company.
For most of my life, I just assumed that Vosteen was a German name. My Dad's parents were from Germany and one gentleman (of which I lost the contact info in a computer crash), described the German town of Vosteen and sent me a picture of himself as a boy sitting on a large rock (called the Fox Stone) in the center of the town. So, I thought, Vosteen must be of German origin.
However, over the years, folks of Dutch background always greeted me as a fellow 'Dutchman' or 'Nederlander'. So, I decided to do some research and found that Granpa Frederic was born in Lehe, Germany (Aug. 14, 1900) about 10 miles from the Netherlands border. Not that this fact puts complete closure on the question, but certainly supports the link to the name being of Dutch origin.
Perhaps, if I get the Blog started, we can use that as the first discussion topic.