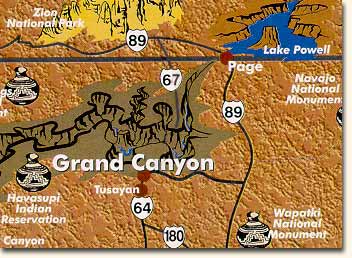 Starting Out
We met our guide, Eb, on Tuesday morning at our motel in Tusayan, just outside the Grand Canyon Village entrance on the South Rim. The trip to the North Rim (Rtes 64, 89, and 67) is over 4 hours. Since it was going to take a good part of the day, we stopped off at many of the overlooks along the South Rim, visited with Indians selling jewelery and pottery at the Little Colorado, then traveled up to Page and the narrow crossing just below Lake Powell.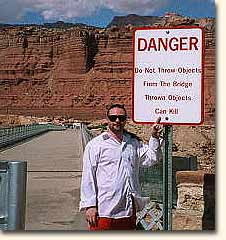 After a quick breather to allow Ryan to let us know that we shouldn't throw stones we continued on to Bright Angel Point.
This bridge is across the narrowest part of the canyon, just a few miles below the Glen Canyon Dam.
This really was a harbinger of things to come, because we found out that Ryan has a thing for signs and a dis-affinity for bridges. More on both later!

---
The First Night
We camped the first night at the North Rim in the woods about a mile and a half up the Ken Patrick Trail. It rained that night from 2AM until 6AM in the morning. Eb had a tarp set up and all our stuff safe and dry before we even heard the first thunder. What a guy!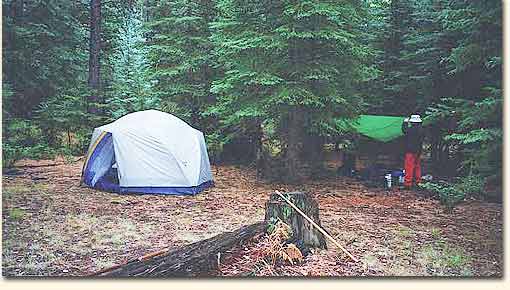 It got down to around 40° by morning (when you're from the Phoenix area, that's really cold!) and we were wearing just about everything we packed. This campsite was over 8200 ft. in altitude; we're lucky it didn't snow. As you can see below, we were just a little bundled.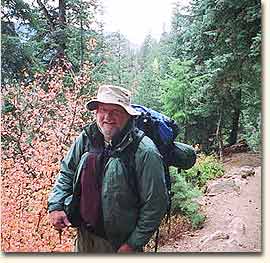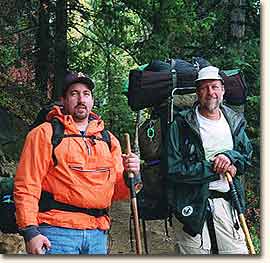 Next, we started down the North Kaibab.